Build Your
Own Burger
& Grilled
Cheese
You be you & do how you do.
NEW! Now you can create the burger or grilled cheese of your dreams with cheese, toppings, and sauce, customized by you for you!
Protein (Burger Only)
Beef Burger
Turkey Burger
Beyond Burger™
Bun (Burger Only)
Brioche Bun
Gluten Free Bun
No Bun
Double Deck Sesame Seed Bun (For Double Only)
Cheese (Select One)
American
Cheddar
Pepper Jack
Swiss
Classic Toppings
Caramelized Onions
Grilled Mushrooms
Lettuce
Roasted Jalapeno Pepper Blend
Pickles
Red Onion
Tomato
Premium Toppings
Avocado
Bacon
French Fries
Egg
Condiments & Sauces
Buffalo Sauce
HB Secret Sauce
BBQ Sauce
Pepper BBQ Sauce
Sauce Supreme
Ranch
Ketchup
Mayo
Mustard
Relish
See How It Works
The possibilities are endless!
Here are some of the toppings we offer. You'll have to check out our Salad Bar in person to see what other seasonal selections we have available!
Greens
Iceberg
Mixed Greens
Romaine
Spinach & Kale
Half Mixed Greens & Spinach/Kale
Extras
Roasted Salt & Pepper Chicken
Fiesta Chicken
Sesame Tofu
Salmon
Shrimp
Lemon Roasted Shrimp
Avocado
Dressings
Apple Cider Vinaigrette
Balsamic Vinaigrette*
Bleu Cheese
Caesar
Citrus Lime Vinaigrette*
Fat-Free French*
Fresh-Squeezed Lemon
Greek
Housemade Italian Vinaigrette*
Lemon Vinaigrette*
Olive Oil
Parmesan Peppercorn
Housemade Ranch
Red Wine Vinaigrette
Poppyseed Vinaigrette
Street Corn Vinaigrette
Thai Peanut*
(*= Vegan)
Good Stuff
Artichoke Hearts
Ancient Grains
Bacon
Beets
Black Beans
Broccoli
Carrots
Chick Peas
Cauliflower
Corn
Cucumbers
Diced Eggs
Edamame
Granny Smith Apples
Olives
Quinoa
Ramen Noodles
Red & Green Peppers
Red Onions
Sweet Green Peas
Tomatoes
Crunchies
Chow Mein Noodles
Croutons
Dried Cranberries
Peanuts
Roasted Chickpeas
Slivered Almonds
Sunflower Seeds
Tortilla Strips
Cheese (Select One)
Cheddar
Crumbled Bleu
Feta
Fresh Mozzarella
Goat
Queso Fresco
Shaved Parmesan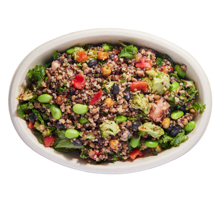 Power Protein Grain Bowl
Ancient Grains + Black Beans + Edamame + Roasted Broccoli + Red Bell Peppers + Tomatoes + Roasted Chickpeas + Kale + Spinach x Red Wine Vinaigrette = Now That's A Flex! (Served Cold)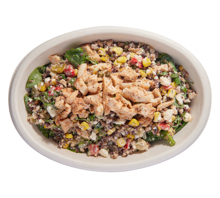 Mexican Street Corn Grain Bowl
Ancient Grains + Fiesta-Seasoned Chicken + Fire-Roasted Corn + Fiesta-Roasted Red & Green Bell Peppers + Queso Fresco with a Pinch of Cilantro + Kale + Spinach x Street Corn Vinaigrette = Viva la Vida! (Served Cold)
So you're having a party huh?
Want to share your Hello Bistro addiction with the rest of the office? There's no better reprieve from the daily grind than your very own office salad bar!
SEE OUR CATERING GUIDE HERE!
Menu Item
Description
View Nutritionals
IN
CALS.
FAT
CARBS
PROTEIN
CHOLEST.
FIBER
SODIUM
SALAD
589
35
41
28
113
2
1546
DRESSING
777
35
41
28
113
2
1546
Start an order