10 Things to Love about Hello Bistro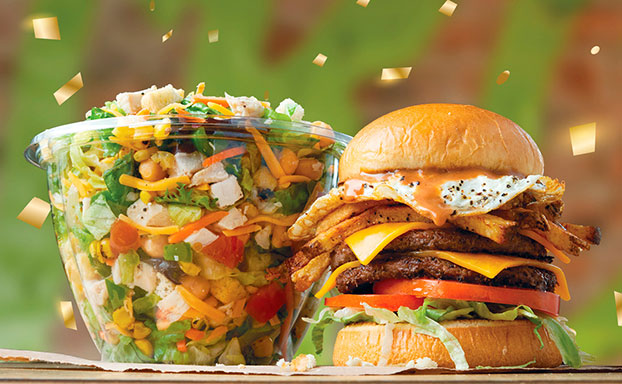 In 2022, Hello Bistro turns 10! We share our anniversary with such important milestones as Gangnam Style, Grumpy Cat (RIP), and the first use of the "It's Gonna Be May" meme (yes, it's that old!).
Check out these fun facts about Hello Bistro, 10 years in the making!
The heart of Hello Bistro is to unite vegetarians and carnivores, "where salads and burgers live harmoniously."
We were founded in Pittsburgh, PA! So, if you see us ordering a side of French fries just to throw on top of our salad, that's why!
We're located as far west as Ohio and as far east as State College, PA. We like to think Ohio and Pennsylvania live harmoniously next to each other like salads and burgers.
We're part of Eat'n Park Hospitality Group. Have you ever been to Eat'n Park or The Porch? Or to a university or company served by Parkhurst Dining? Then you know we know food!
Our most popular salad is the Autumn Apple Chicken & Pear Salad. Every year, this menu item goes like hotcakes! (Note: We do not sell hotcakes – head to Eat'n Park for those!)
In addition to celebrating our anniversary this year, we also launched our brand-new Build Your Own Burger and Grilled Cheese, where for the first time at Hello Bistro, you can design the burger or grilled cheese of your dreams, we'll make it, and then you can enjoy it!
We also launched our brand-new smash burger this year. While most burgers at other restaurants come with just one patty, the standard for our Build Your Own Burger is TWO smash burgers. That's just how we (brioche) roll!
Okay, we could talk about our salads and burgers all day—have we mentioned our French fries are also legendary? We cook them in peanut oil, and they've become a guest favorite. Don't forget to dip them in our housemade ranch!
We serve Boylan Soda in a variety of flavors that are even more delicious if you mix two or more together!
In 2022, Pittsburgh Magazine's Best of the Burgh Readers' Poll named Hello Bistro as Best Vegan/Vegetarian Restaurant in the Pittsburgh area. What an honor!
Want to know what else we've been up to?