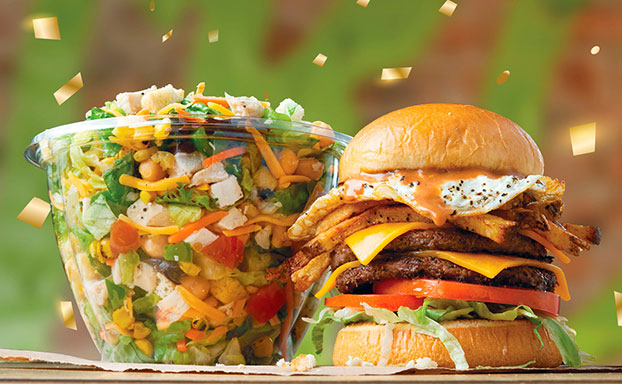 In honor of our 10th anniversary, we're rolling out coupons just for you—our No. 1 fans!—all month long! If you're already a member of our email or text club, you're one of the cool kids that received 10th anniversary coupons to save on burgers and salads. And if you're not a member yet—well, what are you waiting for?! Join our anniversary celebration and subscribe HERE.
You can use the coupons on our Hello Bistro Salads, which include Caribbean Shrimp, Buffalo Chicken, Apple Almond Chicken, Autumn Apple Chicken & Pear, Greek Chicken, Chicken Caesar,
Classic Cobb, Chicken Bacon Ranch, Thai Peanut Salmon, and Chicken Fiesta.
Plus, we have a BYO Burger deal that will make your mouth water! (Hint: It may involve our French fries.)
Don't miss out on our anniversary coupons and subscribe to save today!
Want to know what else we've been up to?