We've Got Easy Salads for Parties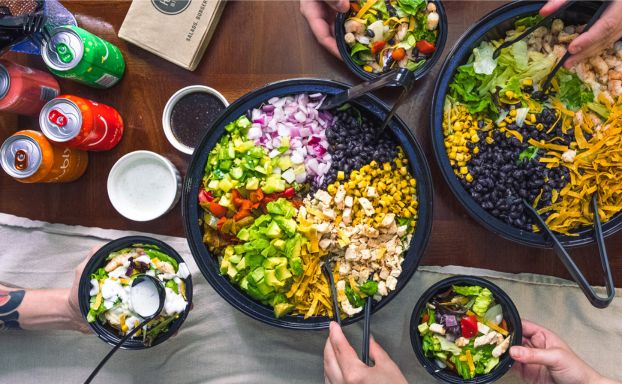 Summer is the time for parties. And what's one way to throw a memorable shindig? With Hello Bistro, of course! Leave the food planning to us with easy salads for parties, including our catering salad sizes that serve up to five people.
Choose from our catering salad options like:
Strawberry Chicken Salad
Dig into our Strawberry Chicken Salad with almonds, roasted chicken, mixed greens, strawberries, crumbled bleu cheese, and poppy seed dressing.
Chicken Bacon Ranch Salad
Say "Giddy up!" to mixed greens, roasted chicken, cucumbers, tomatoes, diced egg, bacon, carrots, cheddar cheese, croutons, and Housemade Ranch.
Thai Peanut Salmon Salad
This salad will make party guests say, "It's to Thai for!" and comes with mixed greens, salmon, carrots, red bell peppers, cucumbers, edamame, Ramen noodles, chopped peanuts, chow mein noodles, and Thai peanut dressing.
Greek Chicken Salad
Go Greek with mixed greens topped with roasted chicken, tomatoes, cucumbers, red onions, feta cheese, kalamata olives, croutons, and Greek dressing. Note: Hello Bistro is not responsible if your party guests turn your bed sheets into togas!
Chicken Caesar Salad
It's a classic for a reason! Our Chicken Caesar Salad comes with romaine, roasted chicken, shaved Parmesan cheese, croutons, and Caesar dressing.
Classic Cobb Salad
This salad gets the Cobb done! Our Classic Cobb salad comes with romaine, roasted chicken, diced egg, crumbled bleu cheese, avocado, bacon, tomatoes, croutons, and Housemade Ranch.
Want more? View our full list of catering salads when you visit our Catering Section.
Would you rather experiment with your own classic salad recipes for your party? You can also Build Your Own Salad with all fixings you and your guest would want! Choose one type of greens, up to six toppings, one cheese, one crunchy, up to two dressings, and as many proteins as you want (priced separately).
Want to know what else we've been up to?