Fall Flavors Are Here <3
Posted:
September 10, 2019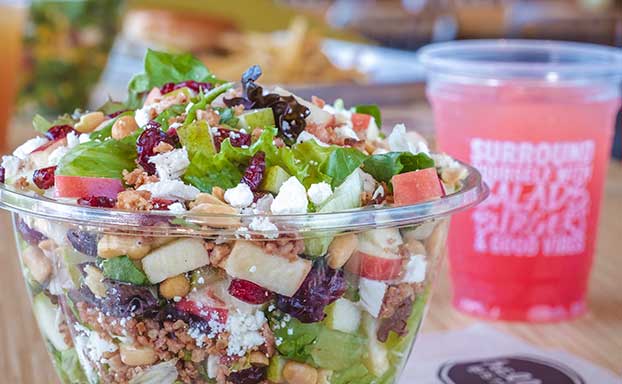 In the words of fashion icon Edna Mode, "Never look back, darling. It distracts from the now." And right now, we're living life to the fullest by savoring our new fall specials! Check 'em out, give 'em a try, and start living in the moment!
Autumn Apple Chicken and Pear Salad
Don't tell the other seasons, but fall is our favorite. Why? Because it's the only time of year you can enjoy our Autumn Apple Chicken & Pear Salad! (Read the name, duh!) With fun seasonal ingredients like pears, Fuji apples, and dried cranberries, plus chicken, bacon, feta cheese, peanuts, and some poppy seed vinaigrette, it's basically fall reincarnated as a salad. Not a bad second life if you ask us!
Beyond Burger™
The future has arrived with our new Beyond Burger™! This new pick features a plant-based burger that looks, cooks, and satisfies like beef with no GMOs, soy, or gluten. (Our minds are officially blown!) But that's not all... we top it with horseradish mayo, cheddar, spring mix, and tomato to take your taste buds to infinity and beyond!
New Craft Beverage Flavors
Ch-ch-changes are here for our lineup of Craft Beverages! Right now, you can enjoy Peach Tea and Autumn Apple Fresca. (Find them at our Beverage Station, next to the Boylan's Soda Fountain.) We make them fresh every day from real fruit and after straining out the pulp, we add a dash of house made sweetener to the mix to give you a simply sensational seasonal sip! (Try saying that 3 times fast!).
Want to know what else we've been up to?