Happy National French Fry Day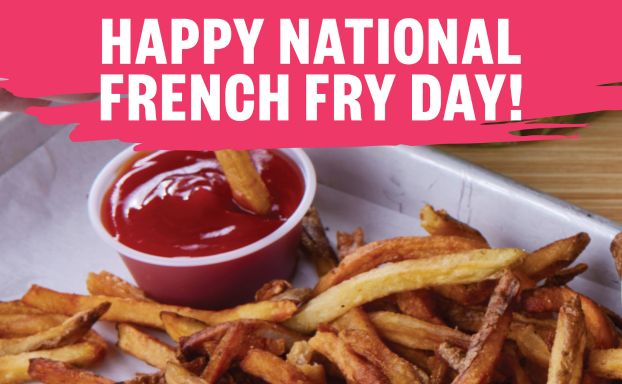 It's FRY-Day all weekend long! Woohoo!
That's right, we're celebrating National French Fry Day Thursday, July 13 through Sunday, July 16 with FREE FRENCH FRIES for our app users! Don't have our app? Download it here.
We don't want to brag, but our French fries are next-level delicious. We cook our homemade fries in peanut oil for an irresistible taste that will have you reaching to the bottom of the bag for more!
Need some inspiration? Here are all the ways to eat French fries at Hello Bistro on National French Fry Day.
Hello Bistro Burger and Fries
It's a classic combination! Burger and fries go together like Ken and Barbie or Bert and Ernie. Try one of our signature Hello Bistro Burgers, like our Bourbon Bacon Burger, and add a side of French fries. Feeling creative? Build Your Own Burger just the way you like it and add a side of French fries to enjoy.
Hello Bistro Salad and Fries
Sometimes you want to live on the edge! Get your fill of fruits and veggies, either with a Hello Bistro Salad or a Build Your Own Salad, and add a side of French fries with a refreshing Boylan Soda for a meal to keep you full and happy! Because who isn't happy when they're eating French fries?
Grilled Cheese WITH Fries
Not only can you Build Your Own Burger with fries on top, but you can do the same with our Build Your Own Grilled Cheese Menu! Just imagine that cheesy goodness mixed with French fries all on grilled bread!
French Fries with Housemade Ranch
However you decide to order French fries on National French Fry Day, don't forget the housemade ranch for dipping! It's the best way to enjoy this savory side!
Download our app so you can enjoy FREE FRENCH FRIES from July 13 through July 16! Because one day isn't enough to celebrate the most golden, crispiest holiday of the year!
Want to know what else we've been up to?