5 Ways to Enjoy Strawberries at Hello Bistro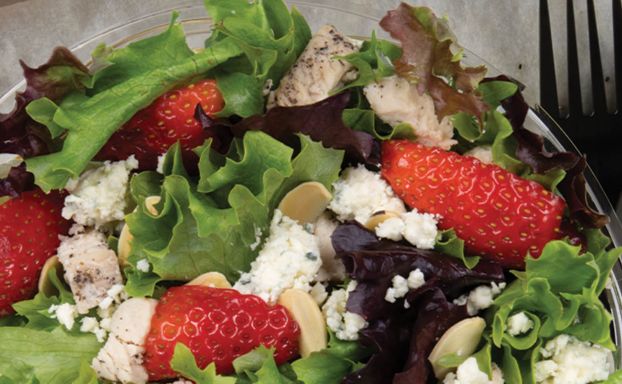 Every summer, we celebrate seasonal traditions like heading to the local pool, running toward the chimes of the ice cream truck, and of course...putting strawberries in our salads! How do you enjoy this berry delightful fruit in your salad? There's of course our Strawberry Chicken Salad, but if you're intimidated when crafting your own creation, we have some Build Your Own suggestions to help you get creative!
Here are 5 Hello Bistro-approved suggestions that are easy salads for dinner or your next work lunch.
Strawberry Chicken Salad
It comes back every summer! Try our signature Strawberry Chicken Salad with almonds, mixed greens, roasted chicken, strawberries, bleu cheese, and poppy seed vinaigrette. It's a guest favorite that people look forward to every year!
Strawberry Avocado Salad
When your Build Your Own Salad, try this one on for size! Strawberry and avocadoes are an underrated combination! Start with mixed greens topped with strawberries, avocado, red onions, and our poppy seed vinaigrette.
Strawberry Salad with Chow Mein Noodles
Give your salad some extra crunch with the addition of chow mein noodles and extra nuts! Start with a base of romaine lettuce and top it with strawberries, almonds, sunflower seeds, shaved Parmesan, and chow mein noodles.
Caprese Salad with a Twist!
You know a classic Caprese salad with tomato and mozzarella? Give it a twist and add strawberries, mixed greens, and balsamic vinaigrette.
Strawberry, Shrimp & Feta
For something strawesome and different, start with mixed greens and top it with strawberries, shrimp, feta, red onions, cucumbers, and balsamic vinaigrette.
There are countless meal combinations right before your berry eyes! Whether signature or Build Your Own salads, order online for takeout from our app or website, or if you want to dine-in, our patios are open for the summer! And if there's anything our strawberries go with, it's outdoor dining!
Want to know what else we've been up to?