Keep Your Heart Healthy!
Posted:
February 11, 2020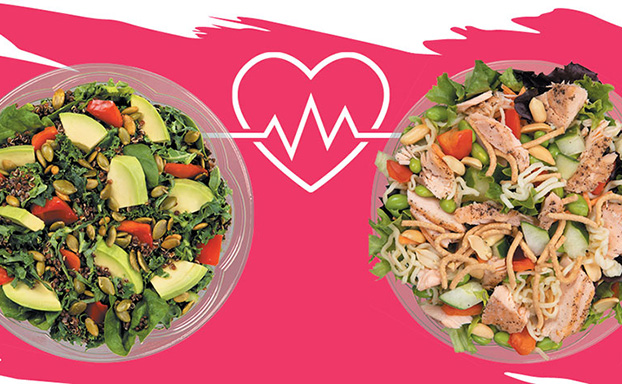 When it comes to keeping your ticker happy, some ingredients are better than others. Here are just a few of the 50+ toppings on our EPIC Salad Bar that will do your heart some good:
Avocado: Alligator Pears are a good source of mono-unsaturated fat, which leads to lower cholesterol levels. Plus, cool nickname.
Where You'll Find It: Caribbean Shrimp Salad
Salmon: Eat this to fill up on Omega 3, an essential polyunsaturated fat linked to heart health.
Where You'll Find It: Thai Peanut Salmon Salad
Beets: These purple beauties are linked to lower blood pressure and help to fight inflammation.
Where You'll Find It: Tandoori Chicken Salad
Nuts & Seeds: Sunflower seeds, peanuts, and slivered almonds contain heathy fats, fiber, and vitamins that help lower the risk of heart disease.
Where You'll Find It: Apple Almond Crunch Salad
All Veggies: Let's face it… there's a reason your Mom told you to eat them!
Where You'll Find It: On our HUGE Salad Bar
Want to know what else we've been up to?