New Burgers That Will Make Your Mouth Water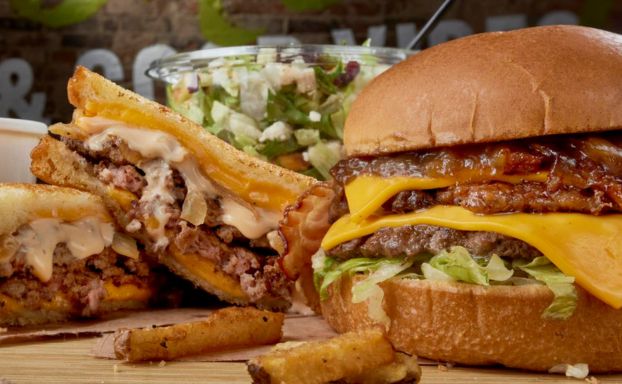 The anticipation of sinking your teeth into a burger is one of life's little pleasures. You know the feeling: You have your hands around a juicy, savory burger, you lick your lips, and take a big ol' bite! Just thinking about it makes our mouth water!
Luckily, we have new burgers that will turn this reverie into a reality. Meat these new kids on the block!
New Burgers at Hello Bistro
Patty Melt
Can you dig it, Daddy-O? We're throwing it back '50s-diner style with our Patty Melt, which comes with two seasoned smash beef burgers topped with American cheese, caramelized onions, and Hello Bistro Secret Sauce, all on grilled Italian bread.
Bacon Jam Burger
Because you can never have too much bacon, it's the Bacon Jam Burger! We take two seasoned smashed beef burgers and top them with bacon, bacon jam, American cheese, and shredded lettuce for a whole lotta bacon goin' on!
Build Your Own Burger
You can also create your own delicious burger creations, with fall ingredients, like bacon jam or caramelized onions, when you order from our Build Your Own Burger menu. Choose the protein, cheese, and toppings to create the burger of your dreams! And don't forget to Make it a Meal when you add a side, like French fries, and a drink!
Order these burgers when you dine in at Hello Bistro or take them to go when you order on our app or online for takeout! Don't feel like leaving home? We're also on the DoorDash app, so Hello Bistro burgers can come straight to your door! Knock, knock? Who's there? Burgers!
Want to know what else we've been up to?