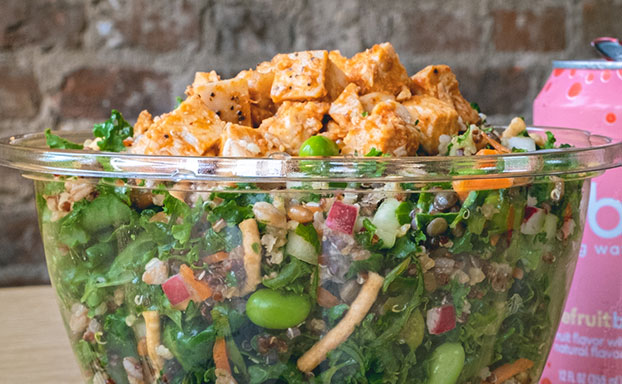 We don't know about you, but we're in a summer state of mind right now! Even though the season doesn't officially start for a few more weeks, we've already carefully crafted our perfect playlist and hit "buy" on that JUMBO giraffe floaty that takes up most of the pool.
In fact, we're SO ready for the season of sun that we can't wait another minute…. OUR NEW SUMMER SPECIALS HAVE ARRIVED! (*And the crowd goes wild!) Head to your friendly, neighborhood Hello Bistro STAT to get your first taste…
Spicy Asian Chicken Greens & Grains
Kale + Spinach + Gochujang Chicken + Ancient Grains + Carrots + Radish + Edamame + Cucumber + Chow Mein Noodles x Asian Sesame Dressing = Feel The Flavors In Your Seoul!
Santa Fe Shrimp Greens & Grains
Spinach and Kale + Lime Shrimp + Ancient Grains + Black Beans + Tomato + Fire-Roasted Corn + Green Bell Pepper + Pepitas x Cilantro Ranch = Have the Lime Of Your Life!
Buffalo Bleu Burger
Burger + Lettuce + Tomato + Bleu Cheese x Buffalo Sauce = Wing Night Has Met Its Match!
Want to know what else we've been up to?