ONE WEEKEND ONLY: $7 SIGNATURE SALADS
Posted:
November 24, 2020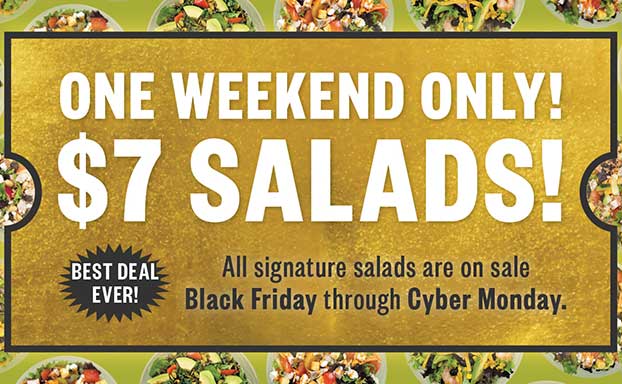 Hello Bistro now presents... a delicious deal like no other! Black Friday through Cyber Monday, you can enjoy ANY of our 12 Signature Salads for just $7... (Say whaaaa?!) To put into perspective what a great deal this is, we did some math...
1 Cordless Vacuum = 32 Signature Salads
1 Big Screen TV = 68 Signature Salads
1 Personalized Greeting from Steve Harvey = 72 Signature Salads
The most satisfying meal you'll have all week = 1 Signature Salad
So add a reminder to your calendar NOW, so we can help fuel your shopping spree this weekend. After all, what's better than saving some green on some greens on Black Friday!?
Want to know what else we've been up to?