5 Underrated Fall Flavors to Enjoy at Hello Bistro
Posted:
November 16, 2023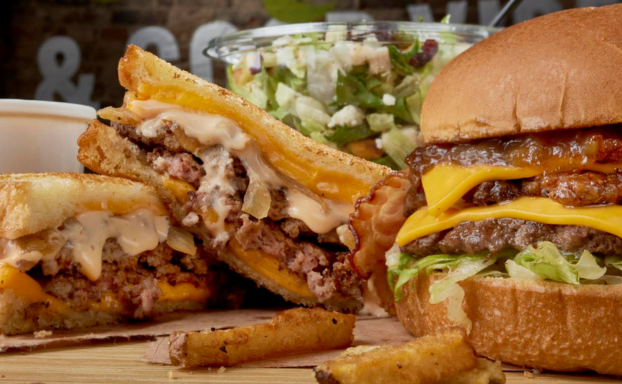 Sure, it's the season of fall flavors — including pumpkin spice EVERYTHING — but Hello Bistro offers some of the most underrated autumn ingredients to add something extra to your salads, burgers, grain bowls, and grilled cheeses. Discover these five fall flavors below that you can enjoy at your local Hello Bistro!
Pear
Pears might look a little like apples, but their taste is completely different: sweet with a little bit of spice.
Hello Bistro Meal Suggestion: Autumn Apple Chicken & Pear Salad or /Grain Bowl
This salad or grain bowl includes topped with roasted chicken, Fuji apples, pears, bacon, feta cheese, dried cranberries, and peanuts, with poppy seed vinaigrette.
Bourbon
Yes, bourbon (well, in our case, bourbon sauce)! The smoky, oaky flavor conjures up the fall activity of sitting by a campfire or fireplace.
Hello Bistro Meal Suggestion: Bourbon Bacon Burger
Forget bourbon on the rocks — how about bourbon on the burger? Our Bourbon Bacon Burger comes with many fall flavors, made with two seasoned smashed beef burgers topped with cheddar cheese, bacon, caramelized onions, crispy onion straws, lettuce, and bourbon sauce.
Cheddar
Doesn't cheese make everything better? Savory cheddar brings out the essence of other fall flavors like apples.
Hello Bistro Meal Suggestion: BYO Grilled Cheese
Start with cheddar and add bourbon sauce to make it extra fall-y! Add your other favorite ingredients to customize this grilled cheese exactly the way you want it!
Cranberry
Fall flavors like cranberry infuse tartness into your meals.
Hello Bistro Meal Suggestion: BYO Grain Bowl or BYO Salad
Build your own fall flavor profile when you start with a base of grains or greens, then add cheddar, dried cranberries, pear, your preferred protein, and apple cider vinaigrette!
Bacon
Face it: Every season is a good time for bacon, but doesn't it hit a little different in the fall? The warm, crispy goodness mirrors the feeling of staying cozy indoors.
Hello Bistro Meal Suggestion: Bacon Jam Burger
The cure for your crispy cravings: Two seasoned smashed beef burgers topped with bacon, bacon jam, American cheese, and shredded lettuce.
Want to know what else we've been up to?