Salads We're Loving Right Now
Posted:
September 5, 2022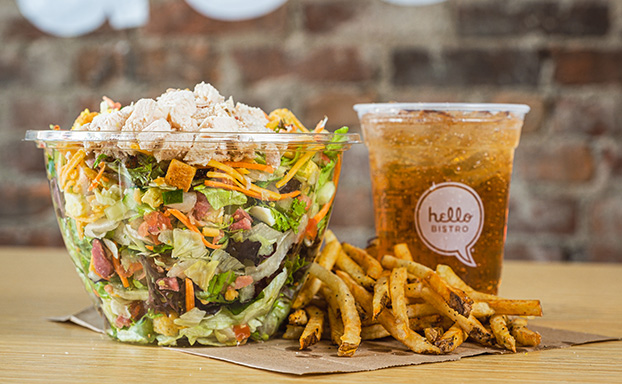 If these Hello Bistro salads were on Twitter, they'd TOTALLY be trending. These are the salads we're really digging—and digging into—right now!
Chicken Bacon Ranch
As soon as you say "ranch," people come running. This salad comes packed with mixed greens, roasted chicken, cucumbers, tomatoes, diced egg, bacon, carrots, cheddar cheese, croutons, and of course, housemade ranch.
Chicken Caesar
You can't mess with a classic! And you won't find a salad more well-known than the Chicken Caesar Salad, made with romaine, roasted chicken, shaved Parmesan, croutons, and Caesar dressing.
Greek Chicken
"It's all Greek to me!"—and that's the way we like it! This colorful bowl includes mixed greens, roasted chicken, tomatoes, cucumbers, red onions, feta cheese, kalamata olives, croutons, and Greek dressing.
Want to know what else we've been up to?