Salads to Share - Family Style!
Posted:
February 25, 2021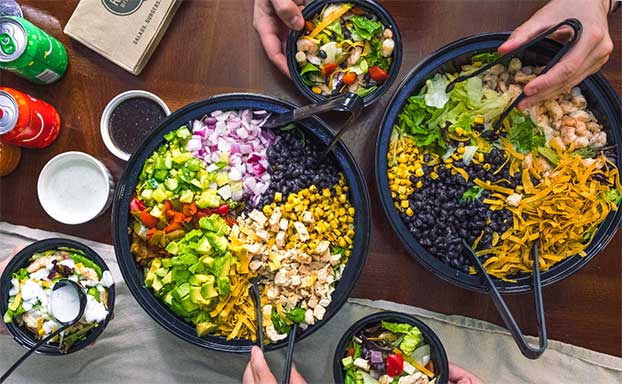 If you're like us, by the time Hump Day rolls around, your meal planning for the week has already gone out the window and you're looking for an easy Plan B to execute that doesn't involve cooking, cleaning, and is (hopefully) somewhat nutritious and delicious.
Cue Hello ToGo and our NEW Salads to Share! Built to serve 5, this mega salad portion also includes utensils and bowls for all, so you can say "Sayonara" to those dishes! Choose from one of our 12 Signature Salads or pick your favorite toppings and Create Your Own!
Mediterranean Shrimp
Romaine + Lemon Shrimp + Tomatoes + Cucumbers + Artichokes + Red Bell Peppers + Kalamata Olives + Chick Peas + Feta Cheese + Croutons x Lemon Vinaigrette = Seas The Day!
Thai Peanut Salmon
Mixed Greens + Salmon + Carrots + Red Bell Peppers + Cucumber + Edamame + Ramen Noodles + Chopped Peanuts + Chow Mein Noodles x Thai Peanut Dressing = It's To Thai For!
Create Your Own
Choose one type of greens, up to six toppings, one cheese, one crunchy, up to two dressings, and as many proteins as you want (priced separately).
Want to know what else we've been up to?