New Menu, Who Dis? Try These Dishes at All Hello Bistro Locations
Posted:
September 6, 2023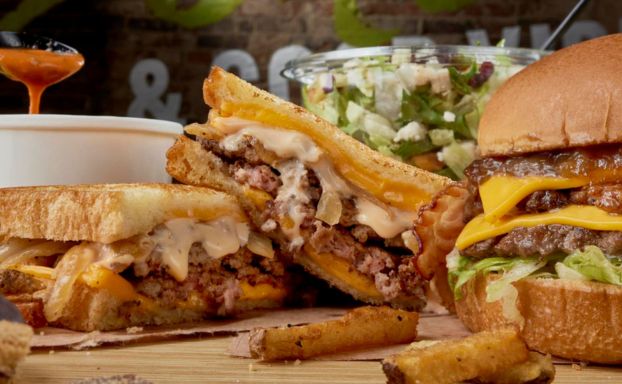 "New" and "menu" are two of the greatest words in the English language. (Although they're pretty great in any language!)
So, huzzah! At all Hello Bistro locations, we've dropped our new menu featuring fall ingredients like apples, pears, bacon jam, caramelized onions, and flannel (okay, maybe not flannel, but it's still one of our favorite fall ingredients). Meet the new meals on the block below!
Autumn Apple Chicken & Pear Salad/Grain Bowl
This delicious seasonal bowl includes mixed greens topped with roasted chicken, Fuji apples, pears, bacon, feta cheese, dried cranberries, and peanuts, with poppy seed vinaigrette. Plus, we're also welcoming Fuji apples and pears back to our Build Your Own Salad menu at all Hello Bistro locations, for your original salad creations. Plus, don't forget to swap mixed greens for grains, spinach, and kale and make it an Autumn Apple Chicken & Pear Grain Bowl!
Bacon Jam Burger
What's shakin', bacon? Two seasoned smashed beef burgers topped with bacon, bacon jam, American cheese, and shredded lettuce. Plus, you can add the bacon jam to your BYO burger or grilled cheese!
Tomato Basil Soup
It's the perfect soup to warm up with on a fall day! Our tomato basil soup pairs perfectly with any of our signature grilled cheese sandwiches or even a Build Your Own creation.
Second Cheese Option for BYO Grilled Cheeses
Speaking of grilled cheese sandwiches, you now have the option to add TWO different cheeses to your Build Your Own Grilled cCheese! Choose from American, cheddar, pepper jack, and Swiss.
Patty Melt
It's hip to be square! Two seasoned smashed beef burgers on grilled Italian bread, topped with American cheese, caramelized onions, and Hello Bistro secret sauce.
Peruvian Chocolate Brownie
As the perfect after-meal treat, the Peruvian Chocolate Brownie is a chewy chocolate creation rich in flavor that goes down smooth. This brownie is so rich, you'll need something to drink to wash this treat down!
Browse our Hello Bistro locations and find the closest one near you for all of these new meals! And don't forget to download our app!
Want to know what else we've been up to?