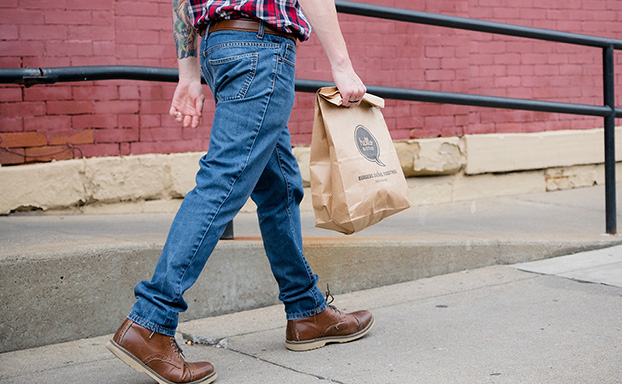 After much thought, we've finally found the silver lining for this situation: Not only does this prove to your boss that you can work from home effectively, but it's also a great excuse to order takeout! After all, grocery stores are a mad house right now and you do need to eat to survive…
WE NOW DELIVER
Don't feel like putting on pants*? We get it. That's why we're excited to announce that we'll now deliver your noms right to your door! To get started, just order online at hellobistro.com or through the mobile app. Pure deliciousness will be knocking on your door before you know it. *Disclaimer: Pants are optional, but you should probably put them on anyway before your delivery driver gets there.
ORDER AHEAD FOR PICKUP
Need a break from the confines of your house, but still want the comforts of social distancing? Never fear… online ordering is here! Just place your order and we'll have it ready to go on our Hello To Go shelves for when you arrive. Craving a little social interaction? Give us a call to place your order and when you arrive, we'll be ready to ring you up and get you out in a jiffy!
One quick note if you were planning on dropping by to place your order… To ensure social distance, walk-in orders are no longer accepted. To place an order for takeout, please head to our website to order online or give us a call directly. Then, at your designated pick up time, we'll have your order ready to go on our Hello To Go shelves. Thank you for your understanding!
Want to know what else we've been up to?