5 Flavor Profile Combos You Didn't Know You Needed in Your Life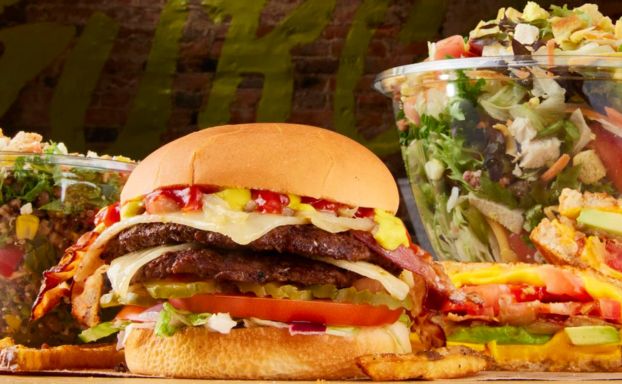 Do you love a good flavor profile or food pairing? So do we! A flavor profile consists of a combination of unique flavors and ingredients to make a flavorful meal or dish. Try these flavor profile combinations on for size!
Mean Green Avocado Burger + Jalapeño Chips Flavor Profile
The creamy avocado and red onion in our Mean Green Avocado Burger complement the jalapeño heat in Miss Vickie's® Jalapeño Potato Chips as well as the citrus in a Lime Bubly—for a full, flavorful meal!
Swiss Grilled Cheese + Mocha Cold Brew Flavor Profile
You know how fondue includes melted cheese and chocolate together and somehow you can enjoy them next to each other? That's kind of what happens when you Build Your Own Grilled Cheese with Swiss Cheese and add a Mocha Cold Brew—the cheese and the mocha flavors pair well!
Thai Peanut Salmon Salad + Sea Salt Chips + Strawberry Lemonade Joyba Tea Flavor Profile
Miss Vickie's® Sea Salt Chips highlight the peanut flavor in our Thai Peanut Salmon Salad and even the sweetness in a strawberry lemonade (think: margarita rim!).
Cheddar Grilled Cheese + Apple Almond Chicken Salad Flavor Profile
If you've never tried apple and cheese flavors together, you're missing out! The sweet and savory blend well together, like in our Cheddar Grilled Cheese Sandwich and our Apple Almond Chicken Salad.
Chicken Fiesta Grain Bowl + Jalapeño Chips Flavor Profile
Make it a hella jalapeño flavor profile with our Chicken Fiesta Grain Bowl, featuring ancient grains, spinach, and kale topped with black beans, red onion, fiesta-seasoned chicken, fiesta roasted green and red bell peppers, jalapeño pepper blend, avocado, corn tortilla strips, and citrus lime vinaigrette.
Do you have a favorite flavor profile combination? What Hello Bistro meal pairings do you like to put together? Share your favorite unusual Hello Bistro combos on social media! We'd love to hear from you!
Want to know what else we've been up to?