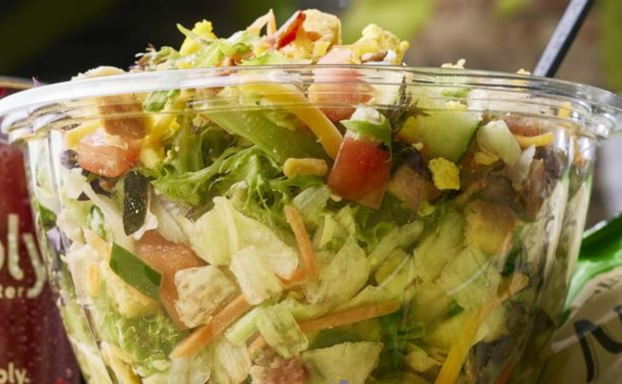 With the chilly temps and falling leaves, this time of year makes us want to do a lot of quintessential fall activities, like going to haunted attractions, cheering on the team at football games, and also...never leaving the house!
When you feel like staying cozy on the couch with Netflix and a blanket, get Hello Bistro delivery!
That's right, we're on the DoorDash app! All you need to do is download the app, find our location near you, place a Hello Bistro delivery order for your favorite meals, and presto, Hello Bistro at your door!
Not sure what to order? Here are 5 Hello Bistro Delivery Guest Favorites!
Chicken Bacon Ranch Salad
Mixed Greens + Roasted Chicken + Cucumber + Tomato + Diced Egg + Bacon + Carrots + Cheddar Cheese + Croutons x Housemade Ranch = Giddy Up!
Chimichurri Chicken Grain Bowl
Ancient Grains + Chimichurri Chicken + Avocado + Roasted Sweet Potatoes + Red Bell Peppers + Roasted Broccoli + Kale + Spinach x Lemon Vinaigrette = You Had Me At Chimichurri.
Superburger
Two Seasoned Smashed Beef Burgers + American Cheese + Pickles + Lettuce x Sauce Supreme = A Classic Since 1949. Add a side of French fries and a drink to make it a meal!
Buffalo Chicken Salad
Mixed Greens + Roasted Chicken + Crumbled Bleu Cheese + Tomato + Carrots + Celery + Croutons x (Buffalo Sauce + Housemade Ranch) = A Hot Mess, But In A Good Way.
Bourbon Bacon Burger
Two Seasoned Smashed Beef Burgers + Cheddar Cheese + Bacon + Caramelized Onions + Crispy Onion Straws + Lettuce x Bourbon Sauce = That's the Spirit!
For Hello Bistro delivery, download the DoorDash app to start on your journey toward salads, burgers, and more — without ever leaving your home!
Want to know what else we've been up to?