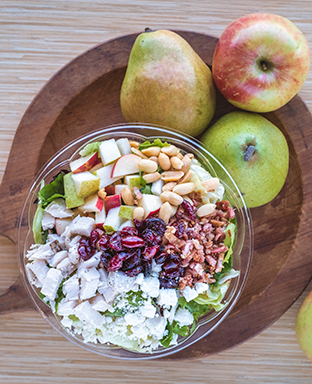 Whether you wear apple bottom jeans (and boots with the fuuuuur) or prefer to stick with an Apple watch, there's one thing everyone can agree on: Apples. Taste. Amazing. In addition to being 2 of the 50+ ingredients that you can put on your Salad Bar creation (Granny Smith and Fuji, ya'll), we've concocted a few masterpieces of our own starring these crunchy crowd pleasers.
For starters, our Autumn Apple Chicken and Pear Salad has returned! (Go ahead and celebrate by jumping into the nearest pile of leaves.) And you can never go wrong with our Apple Almond Crunch Salad – it's a core item on our menu and a guest favorite! Or try pairing our Apple & Cheddar Grilled Cheese with our new Apple Cider Tea for a duo that you'll soon call the apple of your eye!
Want to know what else we've been up to?